11 July 2017
Early this month, staff and students from the MA Charity Management programme met with The Big Issue Founder, Lord Bird of Notting Hill. Dermot Kelly, Programme Director for Postgraduate Business courses at St Mary's, reflects on the experience.
Few rags-to-riches stories can inspire as much as John Bird's, not just because of his rise to ennoblement from a poor background, but because of his irrepressible determination to make a difference in society. It is a quality we should all have.
Therefore the opportunity to meet him was not to be missed.
On a hot and humid midsummer's morning accompanied by MA Charity Management students and staff, I went to Westminster. Traditionally, the sort of day that triggers restlessness, but we were fortunate that Lord Bird was such an engaging, straight-talker and that the venue was air-conditioned.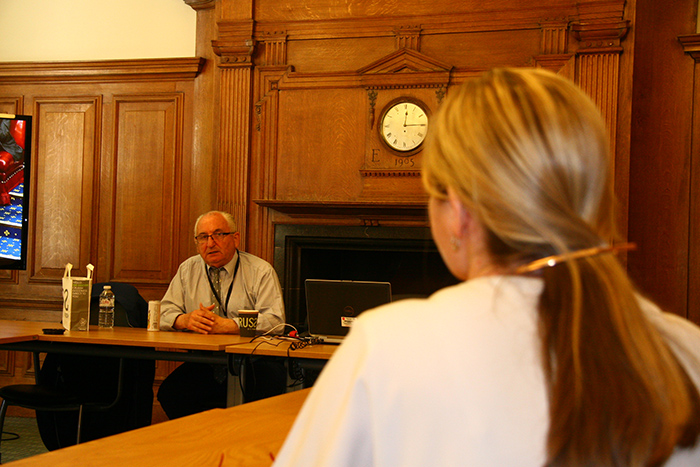 In fact the passion with which Lord Bird of Notting Hill talked about social enterprise as a force for good hid a tough childhood in which he suffered abuse; time in care; imprisonment; homelessness; and only learned to read and write in his teenage years. Yet in spite of this past, he launched one of the most iconic social enterprises, The Big Issue.
The Big Issue philosophy is to provide a 'hand up, rather than hand out' to rough sleepers by employing 2000 of them as vendors of their magazine allowing them to keep the profits they make. Through the Big Issue Foundation, vendors also access other support services to lift them out of poverty and tackle other lifestyle difficulties.
As a result, rough sleepers regain control of their lives, while selling a professional and legitimate commercial product that has been on sale for more than 25 years.
Critics have argued about the ethics of profitmaking, but the traditional model of handing out cash donations to someone in crisis is not sustainable, argued Lord Bird. It can help in the short-term, like resolving the urgent need for food, shelter, and clothing immediately after crises such as the Grenfell Tower fire in June 2017.
However, the real challenge for society begins when public interest and cash donations wane and media attention turns to new events.
Attending the talk by Lord Bird you realise that the Big Issue is a good, strong and sustainable social entrepreneurial idea. It has stood the test of time because so many people have a stake in it and gain from its success. Vendors get a livelihood and support back into society, contributors write for a quality publication, and consumers get an entertaining read while they commute.
Listening to Lord Bird, I am convinced other great social entrepreneurial ideas will be inspired by this talk. I look forward to seeing how these ideas impact on our society in the future.
Approximately 70,000 social enterprises in the UK. Nearly a third work in the top 20% most deprived communities in the UK. 59% of social enterprises employ at least one person who is disadvantaged in the labour market. For 16% of social enterprises, this group forms at least half of all employees. The average pay ratio between social enterprise CEO pay and the lowest paid is just 3.6:1 – for FTSE 100 CEOs, this ratio stands at 150:1. 40% of social enterprises are led by women; 31% have Black Asian Minority Ethnic directors; 40% have a director with a disability.
Key Facts on Social Enterprise
Source: St Mary's University
Note: this article does not represent the viewpoint of this website.